At The Oracle Institute our mission is to provide clients professional psychological help in a uniquely serene atmosphere. Our passionate and dynamic staff is dedicated to supporting clients on their healing journey. We help clients manage or overcome problematic mental, behavioral and relational issues. Positive change for optimal health and wellness is our collaborative goal.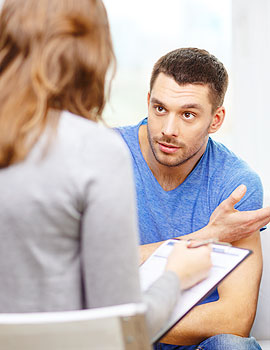 An EAGALA recognized equine and animal-assisted psychotherapy facility, the Oracle Institute sits on five acres just off of Oracle Road in the convenient Casas Adobes area of northwest Tucson. Surrounded by nature, the aesthetic southwest setting offers a private place to find healing and experience personal growth. Inside The Oracle Institute, talk and group therapy is fascilitated in a warm and welcoming atmosphere. Outdoors, clients have access to stables for equine therapy, a labyrinth for meditation, and trails for bathing in nature and taking mindful walks.
The services offered at The Oracle Institute can help with marriage or relationship struggles, addictions (sex and/or substances) anxiety, depression, trauma and challenges within a family. We work with adults and children aged six and older. Our master's level clinicians utilize talk therapy, EMDR, experiential or equine therapy to address a multitude of problems that may be holding clients back from living their best life.
The Oracle Institute's clinicians can help you continue on your path to reaching your greatest potential. Come see for yourself why The Oracle Institute is such a special place to heal!